DA VINCI SURGICAL SYSTEM ROBOT
Potential injury or death due to defects in the surgical device, "micro-cracks"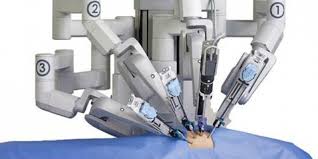 The manufacturers of the 
da Vinci
 Surgical System robot have issued an urgent medical device notification regarding the potential for injury to patients due to micro-cracks that may appear on the scissors the surgeon controls via the robot to perform delicate, internal surgery.
What are the side effects if you experience injury following surgery using of the da Vinci robot?
Injuries, complications, and side effects could include one or several of the following:
surgical burns to arteries and organs
punctured organs
bowel injuries
excessive bleeding
dangerous infections
death
What do you do if you suffer side effects?
Patients across the country who have experienced side effects during or after surgery where the da Vinci robot was used should first seek treatment from their medical professional and then call the Sheller defective medical device attorneys to learn their legal rights and how to protect their health in the future.
Fill out the inquiry form on this page, e-mail us or call 800-883-2299
.
Why do hospitals use this surgical system?
Many hospitals use the da Vinci Surgical System which until recently was thought to be an effective, minimally invasive alternative to both open surgery and laparoscopy.  Other robotic medical devices are used and can cause problems as well.  Robotic technology is used to perform many types of surgeries including hysterectomies, prostate surgery, and gastric surgery.
Intuitive Surgical is the company that manufactures and distributes the da Vinci Surgical System and is considered the primary provider of robotic technology for use in human surgical procedures today.
Was there a warning to doctors and patients?
Intuitive Surgical warned customers May 8, 2013 that certain versions of its device may develop micro-cracks that could release electrical energy and inadvertently burn tissue.The internal injuries can lead to a number of complications including sepsis.
IF YOU HAVE HAD SURGERY, EXPERIENCED SIDE EFFECTS AS DESCRIBED ABOVE, AND BELIEVE A SURGICAL "ROBOT" WAS USED, CONTACT US NOW BY CALLING 800-883-2299, FILLING OUT THE FORM AT THE BOTTOM OF THIS PAGE OR E-MAILING US FOR A NO OBLIGATION CONSULTATION ABOUT YOUR LEGAL RIGHTS.
Links
Intuitive Surgical Urgent Medical Device Notification  May 8, 2013
"Intuitive Surgical Flags 'Potential Issue' With Robot" CNBC, May 10, 2013
"Controversy over surgical robots heats up" CNBC story and documentary, April 18, 2013
"Marketing is key to surgical robot's success" CNBC, April 18, 2013
"Surgical robot da Vinci scrutinized by FDA after deaths, other surgical nightmares" New York Daily News, April 9, 2013
Click here to read full attorney disclaimers