In The Philadelphia Inquirer: Sheller $2.2 Billion J&J Pharma Settlement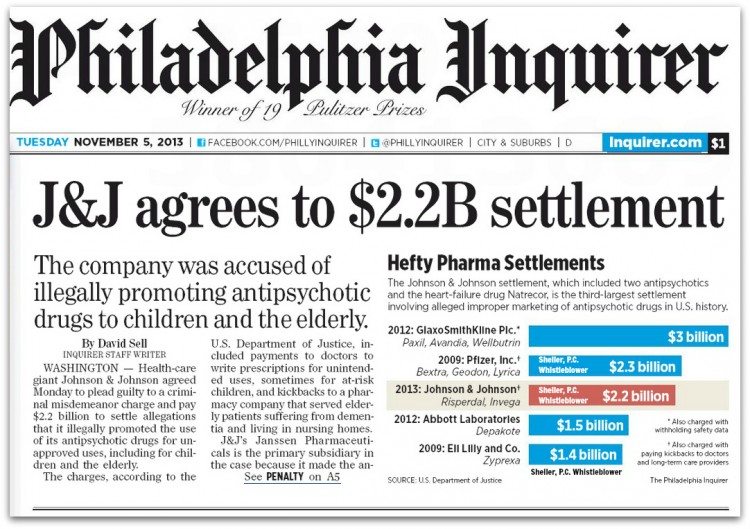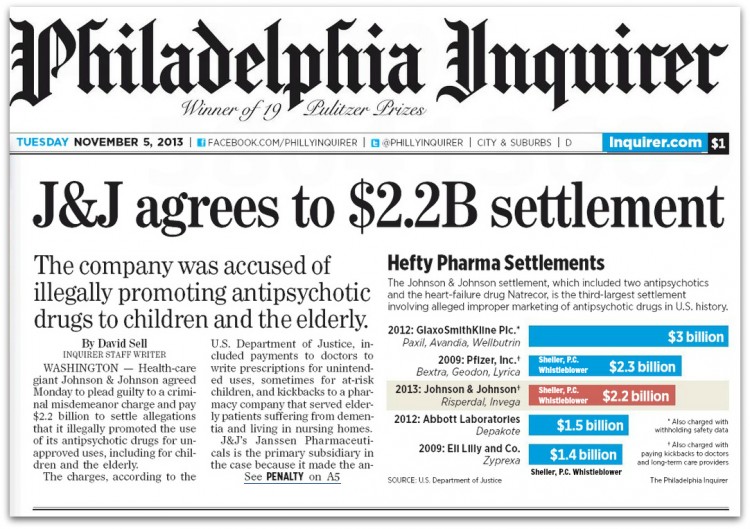 J&J to pay $2.2B for Improper Promotion of Risperdal
BY DAVID SELL
WASHINGTON – Health-care giant Johnson & Johnson agreed Monday to plead guilty to a criminal misdemeanor charge and pay $2.2 billion to settle allegations that it illegally promoted the use of its antipsychotic drugs for unapproved uses, including for children and the elderly.
The charges, according to the U.S. Department of Justice, included payments to doctors to write prescriptions for unintended uses, sometimes for at-risk children, and kickbacks to a pharmacy company that served elderly patients suffering from dementia and living in nursing homes.
J&J's Janssen Pharmaceuticals is the primary subsidiary in the case because it made the antipsychotic drugs Rispderal and Invega, but other drugs and other J&J units were involved.
Risperdal and Invega were approved mainly for the small population of patients suffering from schizophrenia. However, the drugs were promoted for other medical problems to increase sales.
"These companies lined their pockets at the expense of patients, taxpayers and private insurers in this country," U.S. Attorney General Eric Holder said at a news conference. "They drove up the cost for everyone in the health-care system."
The $2.2 billion total would be the third-largest penalty paid by a pharmaceutical company to settle allegations of illegal marketing. Last year, GlaxoSmithKline agreed to plead guilty to three criminal counts and pay $3 billion to settle allegations of illegal marketing of drugs and for withholding safety information about its diabetic drug, Avandia.
The J&J agreement involved 45 states, because the alleged actions involved Medicaid, which is paid jointly by states and the federal government.
"Janssen accepts accountability for the actions described in the misdemeanor plea," the subsidiary said in a statement. "The settlement of the civil allegations is not an admission of any liability or wrongdoing, and the company expressly denies the government's civil allegations."
Zane Memeger, U.S. attorney for Eastern Pennsylvania, joined Holder and Justice Department officials for the announcement because federal investigators in Philadelphia played key roles.
In 2009, Kentucky-based Omnicare Inc. agreed to pay $98 million to settle civil claims by the Justice Department and several states that it took kickbacks from J&J for promoting use of the drugs in nursing homes.
Monday's deal comes nearly 10 years after federal investigators first issued a subpoena to J&J regarding use of Risperdal.
J&J is based in New Brunswick, N.J., and has multiple divisions operating in Pennsylvania, where it employs more than 7,000 people. The company is known for iconic consumer products such as Band-Aids and baby shampoo, but prescription pharmaceuticals are big moneymakers for J&J.
Over more than a decade, few drugs have been as lucrative as Risperdal, first in pill form and later as a long-acting injectable called Risperdal Consta.
The high-water mark for Risperdal products was 2007, when the pill version generated $3.42 billion in sales, and the injectable brought in $1.128 billion, according to J&J financial reports filed with the Securities and Exchange Commission. That represented more than 18 percent of J&J's nearly $25 billion in pharmaceutical sales for 2007.
Risperdal's chemical name is risperidone. The pill version completely lost patent protection in the United States in 2008. The company's injectable and the two versions of Invega generated $2.771 billion in 2012 and $2.324 billion through the first nine months of this year.
Bucks County resident Alex Gorsky was promoted to chief executive officer of J&J in April 2012, in part because of his record of generating sales as leader of Janssen Pharmaceuticals
As of June 30, there were about 490 lawsuits pending with respect to Risperdal in the United States, J&J said in its second-quarter SEC filing. None of those suits are directly affected by Monday's announcement.
Lawyer Stephen Sheller handled one of four whistleblower cases that had been filed in Philadelphia and were part of Monday's agreement. Sheller also filed individual plaintiff suits in Philadelphia Court of Common Pleas on behalf of male plaintiffs who allege that Risperdal caused abnormal growth of breasts; those were not part of Monday's decision.
Last year, Sheller and lawyer Brian McCormick sought to have Gorsky testify about his role in Janssen's efforts to get prominent psychiatrists to promote Risperdal for uses not approved by the FDA. According to court filings, Gorsky used the increases in Risperdal sales on his résumé.
The 60-page transcript of Gorsky's deposition in one of the Philadelphia suits was part of the publicly available court record. In the transcript, McCormick walks Gorsky through discussions from 2001 with Joseph Biederman, a Harvard medical school professor and a Massachusetts General Hospital pediatric psychiatrist who gained fame – and criticism – for advocating the use of pharmaceuticals to treat children with perceived mental illness. That was before the U.S. Food and Drug Administration approved, in still-limited ways, drugs such as Risperdal for children.
In a one-page letter dated Dec. 7, 2001, Biederman requested $500,000 to start what became the Johnson & Johnson Center for the Study of Pediatric Psychopathology. Gorsky said in the deposition that he approved that payment.
Gorsky was asked whether he had been hoping Biederman and, by extension, Massachusetts General Hospital and Harvard, would help J&J to get wider diagnosis and treatment for child and adolescent mental disorders.
"I think our goal was to, yes, have better diagnostic criteria for children who are in need of treatment and to have better therapeutic options for children who are in need of treatment," Gorsky said.
Also in the transcript, McCormick discussed with Gorsky a document called the "Annual Report 2002: The Johnson & Johnson Center for Pediatric Psychopathology at Massachusetts General Hospital." Biederman was the director of the center, and one of the goals of its research, according to the report, was that "it will move forward the commercial goals of J&J."
Link
"J&J to pay $2.2B for Improper Promotion of Risperdal" The Philadelphia Inquirer, Nov. 5, 2013