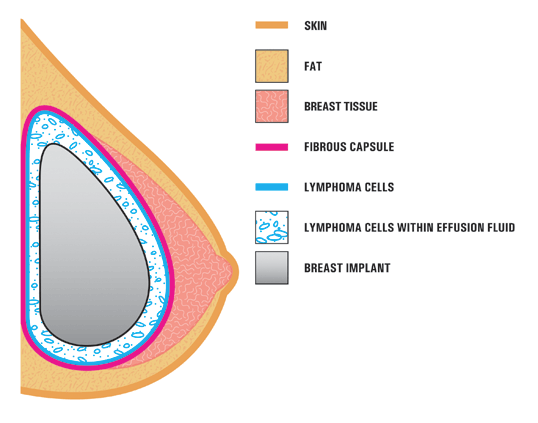 A new type of lymphoma called breast implant-associated anapestic large-cell lymphoma has medical authorities finally agreeing that the prosthetics can cause disease. The first recognized case was in 1997, however a warning from the U.S. Food and Drug Administration was not released until 2011. Six years later, experts say awareness among doctors is low and most are not advising their patients of the lymphoma risk prior to the procedure.
As of February 2017, the FDA has had 359 cases reported worldwide, including 9 deaths. The actual number may be much higher. The FDA states the number of cases are difficult to determine due to "significant limitations in world-wide reporting."
This new type of cancer, triggered by breast implants, may validate what many women have been saying since 1990– implants can trigger autoimmune diseases such as lupus, scleroderma, and fibromyalgia.
In 2006, although the safety of silicone breast implants was still unclear, the FDA lifted the restriction on their sale with the condition that implant manufacturers Allergan and Mentor Corp each do a large scale, 10 year study comparing women with silicon implants to those with saline implants. U.S. Rep. Rose DeLauro (D. Conn.) questioned the manufacturers' commitment to the study after both had lost track of a significant number of study participants after only two years.
Multiple women have also come forward to testify that they were involuntarily removed from the study after reporting problems such as joint pain, dizziness, heart palpitations, vision problems and muscle spasms.
Manufacturers point to multiple smaller studies showing no link between breast implants and rare diseases, however as addressed in philly.com's "Rare cancer reignites debate over breast implants' safety" these studies are too limited or flawed, and have been funded by biased sources such as the Plastic Surgery Foundation.
Sheller PC's Founding Partner, Stephen Sheller, has been criticizing the obvious flaws and conflict of interest in silicone breast implant studies since the 1990's. In 1995 he wrote a six-page analysis published in LexisNexis, "Will The Real Junk Science Stand Up? An Analysis Of The May Clinic Womens Study And Harvard/Brigham Nurses Study In Relation To The Silicone Gel Breast Implant Controversy."
"Epidemiology is a crude and inexact science… We tend to overstate findings, either because we want attention or more grant money." –Dr. Charles H. Hennekens, Professor of Epidemiology at Harvard University's School of Public Health
In the analysis, Sheller points out the appropriateness of Hennekens' quote. Hennekens was in charge of the womens' health study at Harvard. These "junk-science" studies were conducted by well known and respected research doctors in facilities such as Harvard/Brigham and the Mayo Clinic, and published in leading medical journals. The conflict of interest is not just between the doctors, facilities and manufacturers, but also the chemical company Dow Corning. Dow Corning made multi-million dollar donations to Brigham, paid consulting fees to Brigham study authors and manuscript reviewers, and ran ads in The New York Time and the Wall Street Journal publicizing the results of these flawed studies.
It is clear breast implant manufacturers have no intention of conducting unbiased, legitimate studies and unlikely the FDA will revoke approval of silicone breast implants. If you have had a diagnosis of cancer, or an auto-immune disease that may be related to breast implants, call us at 800-883-2299 or fill out the inquiry form for a no cost, no obligation consultation.
This analysis can also be found in Chapter 10, "Junk Book Science," of Stephen Sheller's book, Lawyering in Time of Saints and Evil Doers.
Rare cancer reignites debate over breast implants' safety, Philly.com July 7, 2017
Will The Real Junk Science Stand Up? An Analysis Of The May Clinic Womens Study And Harvard/Brigham Nurses Study In Relation To The Silicone Gel Breast Implant Controversy, Stephen Sheller, Esq. November 16, 1995