TV: SHELLER ON PHARMA & COURTS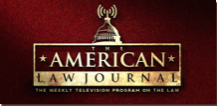 Stephen Sheller appeared on the Philadelphia CNN-News affiliate WFMZ-TV program The American Law Journal on "How  Is Pharma Faring in the Courts?"  Host Christopher Naughton welcomed plaintiff's attorneys Christopher Placitella, Esq. of Cohen Placitella & Roth, Stephen Sheller of Sheller, P.C., corporate defense counsel Terry Henry of Blank Rome and Bloomberg News Reporter Jef Feeley.
In an opening feature report, the Legal's Senior Staff Writer Gina Passarella interviews plaintiff lawyers Thomas Kline of Kline & Specter, Esther Berezofsky of Williams Cuker Berezofsky and Brian McCormick of Ross  Feller Casey, as well as defense counselors Howard Scher of Buchanan Ingersoll Rooney and Raymond Williams of DLA Piper.
The program looks at the status of today's most widely known mass torts now in the courts- vaginal mesh, hip implants, Risperdal and Actos to name a few- and what the likelihood of settlement looks like. The panel also examines bellwhether cases, punitive damages and the latest legal status of generic drugs.