Catastrophic injuries
include injuries that are both
devastating
in scope and
permanent
in nature. These injuries can arise in a number of ways and take a tremendous toll on the injured persons and their loved ones.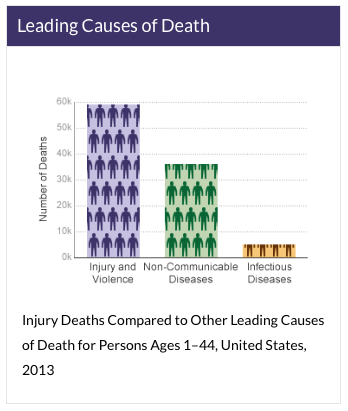 In 2013 in the United States, injuries, including all causes of unintentional and violence-related injuries combined, accounted for
59%
of all deaths among persons age 1-44 year of age- that is more deaths than non-communicable diseases and infectious diseases combined. If you were catastrophically injured in an event and need legal counsel, don't hesitate to 
contact our attorneys and tell us what happened.  

Call 800-883-2299 for a no obligation consultation. 
Injury Facts
More than 192,900 deaths from injury in 2013—1 person every 3 minutes.
Leading cause of death for people ages 1–44 in the U.S.
An estimated 31 million emergency department visits for injury in 2013.
An estimated 2.5 million people hospitalized with injury in 2013.
Violence and injuries cost more than $406 billion in medical care and lost productivity each year.
Injuries considered catastrophic
often involve paralysis, severe burns, head injuries or traumas, toxic exposures, loss of sight, hearing, speech, or sexual function, and much more.
If you or a family member were catastrophically injured and need legal assistance, 

contact Sheller P.C. for a free consultation at 800-883-2299

 or fill out a confidential inquiry form at the bottom of this page and one of our personal injury attorneys will review your case.  The attorneys at Sheller, P.C. believe everyone deserves the right to seek justice. Contact us immediately as there may be a time limit for bringing your claim.
SHELLER, P.C. ATTORNEYS HAVE SUCCESSFULLY LITIGATED NUMEROUS CATASTROPHIC INJURY CASES.  GO TO
SUCCESSES
TO LEARN ABOUT OUR RESULTS. Source:
http://www.cdc.gov/injury/overview/leading_cod.html
The attorneys at Sheller P.C. have been recognized again this year as SuperLawyers. For the twelfth consecutive year, founder Stephen A. Sheller has been selected by the organization and specifical

Defective hip implants are linked to diminished mobility, abnormal blood tests (increased metal ions), fluid buildup in the body, abnormal X-rays, fractures, swelling and pain, possibly leading to re

TOPAMAX (Topiramate) Alleged to Cause Birth Defects: Cleft lip, Cleft Palate Topamax (topiramate) was originally approved by the FDA in 1996 as an epilepsy and anti-seizure drug and in preventing mi

Paxil linked to birth defects, suicide, discontinuation (withdrawal) and other psychiatric side effects, death Paxil (paroxetine hydrochloride), also known as Seroxat in Europe, is manufactured by Gl