The controversial Philadelphia Police Department 'Live Stop' policy makes headlines again as local resident and criminal justice activist, Reuben Jones, was left on the side of the road in the extreme cold with his two children after police impounded his car for an expired registration. It is against PPD policy to leave drivers and their passengers stranded when impounding their vehicle. The policy indicates the officer must either offer a ride home, to the nearest police state or to a public transit hub. Ruben has filed a complaint against the city and the police department has opened an internal investigation.
Sheller PC founder, Stephen Sheller, sued the city of Philadelphia in 2011 after his daughter and her fiancé were abandoned in an unsafe neighborhood under the 'Live Stop' policy by police who also impounded her vehicle for an expired registration. Sheller called the 'Live Stop' program unconstitutional. The lawsuit was settled after the city agreed to make exceptions to its tow policy.
"You know, I'd expect this kind of behavior in Damascus, Tripoli, or Teheran, but not in Philadelphia." -Stephen Sheller
Watch Video: Sheller's interview on Fox News discussing 'Live Stop'
Law students at the Stephen and Sandra Sheller Center for Social Justice at the Temple University Beasley School of Law researched Philadelphia's 'Live Stop' policy in 2016. Although the law was in enacted in 1998 and expanded in 2002 under the pretense that it would combat high insurance rates in Philadelphia, studies have shown that the policy has had no effect on Philadelphia's extremely high insurance rates. Law students found that Philadelphia's 'Live Stop' policy is particularly aggressive compared to other cities and state with similar laws and disproportionately affects the poor, minorities and undocumented immigrants.
Advocates tout 'Live Stop' as nothing more than a government cash cow preying on the city's residents, especially the most vulnerable. The 'Live Stop' incident cost Jones $500 to settle, including a ticket, towing and court costs in addition to the humiliation he suffered during the ordeal.
Typically drivers will pay between $500 – $1,000 to get their vehicles back. Costs increase by $30 each day that a car remains impounded. If a driver is simply unable to pay the fees, after 30 days the city sends the vehicle to auction to recoup its costs.
"It's been decades now, and you'd think this wouldn't be going anymore. Even for middle-class people, this is destabilizing." Rebecca Hoffmann told Billy Penn. Hoffman is a Philadelphia attorney who researched the 'Live Stop' program while at Temple University.
Police and parking officials have impounded more than a half million vehicles since 2002. The number of impounded vehicles have been steadily declining since it peaked in 2006 with 44,000 vehicles impounded.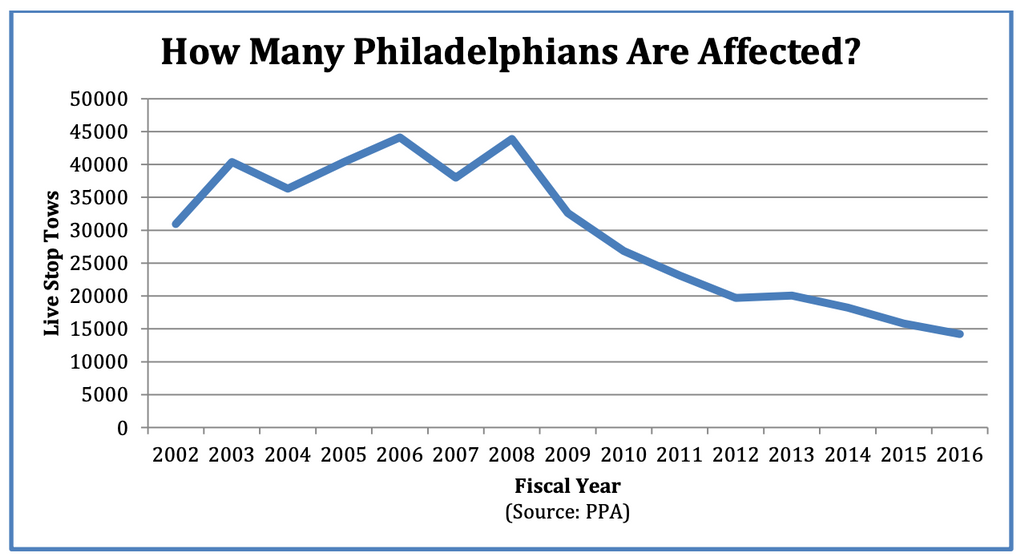 Philly cops still abandon drivers on side of the road, in violation of 'Live Stop' policy, Billy Penn, January 26, 2019