Updated January 30, 2019
The eighth Risperdal case is set to go to trial, this time the stakes are even higher for both sides as the jury may award punitive damages to the plaintiff if wrongful conduct by Johnson & Johnson is proven. 
"We're excited about the availability of punitive damages. All along, we thought the conduct here was worthy of punitive damages, and there's a lot of evidence that we think could see the light of day here for the first time that will shed an even bigger light on how J&J intentionally hurt kids to make more money." -Jason Itkins, Arnold & Itkins
Johnson & Johnson's CEO Alex Gorsky may be required to take the stand for the first time in a Risperdal trial. Court fillings by plaintiff's firms on behalf of a California man who developed gynecomastia as a child, has urged a Pennsylvania state judge to require the pharmaceutical executive to testify. Plaintiff lawyers believe Gorsky's testimony is important for proving wrongful conduct.
J&J illegally marketed Risperdal to children without FDA approval. Gorsky headed up the marketing and sale division of Janssen, a J&J subsidiary, during the late 1990s and early 2000s when these businesses decisions about the drug were being made.
"Documents show exactly how Gorsky expanded Risperdal sales, encouraged the off-label use of Risperdal in children, and promoting the drug based on symptoms rather than diagnoses," the plaintiffs argued in their filing on Thursday. "All of this occurred not only on Gorsky's watch, but presumably under his direction." 
M.H. is a California man who took Risperdal for about 7 years beginning in 2001 at the age five. After five years of taking the drug, M.H. was diagnosed with gynecomastia, female-like breast growth in boys and men. 
Risperdal's warning labels were updated in 2006 warning of the risk of gynecomastia as a rare side effecting occurring in fewer than 1 in 1,000 patients. However, J&J's own data shows they were aware that the side effect was more common in adolescent boys.
M.H.'s case is the first Risperdal trail allowing punitive damages. Several other cases have been remanded back to trial for punitive damages after a Pennsylvania Superior Court judge reversed the trial judge's global ban. With punitive damages on the table, plaintiffs must prove wrongful conduct, making Gorsky's testimony critical.
"His testimony is not being sought for harassment or spectacle, but because it will be powerful evidence of the elements defendants' contend that plaintiff must prove," the filing said.
Even without punitive damages, juries awards a young man a $70M verdict in June 2016.
"Alex Gorsky rode the success of Risperdal to the Johnson & Johnson C-suite and now it's time to look at how that success was created. It was created by manipulating science at the expense of kids' safety." – Jason Itkins, Arnold & Itkin LLP
The plaintiffs are represented by Jason Itkin of Arnold & Itkin LLP, Thomas Kline of Kline & Specter PC, and Stephen Sheller of Sheller PC.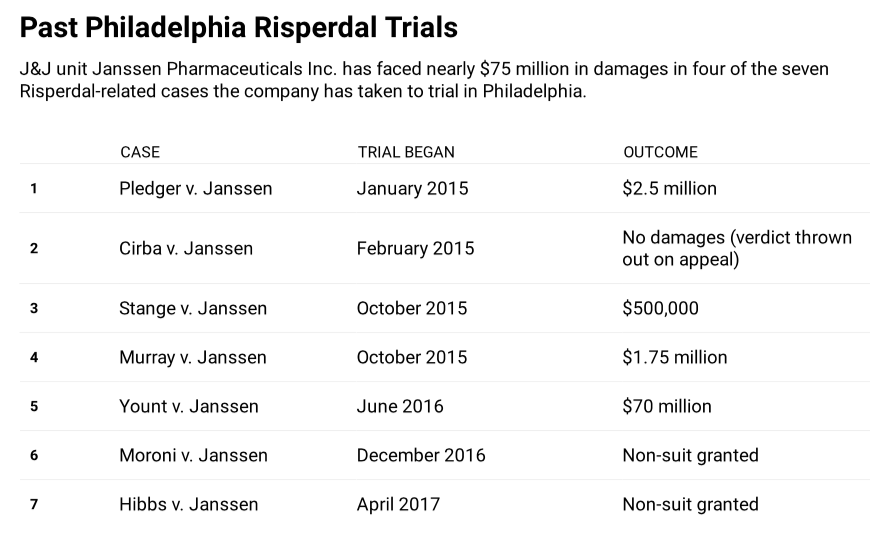 Pa. Judge Urged To Make J&J CEO Testify in Risperdal Trial, Law 360, January 18, 2019
Punitives Promise Fiercer Fight in Philly Risperdal Trial, Law 360, January 28, 2019