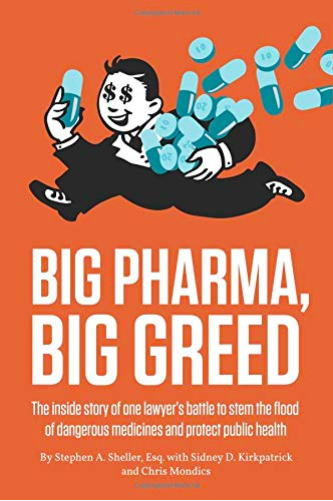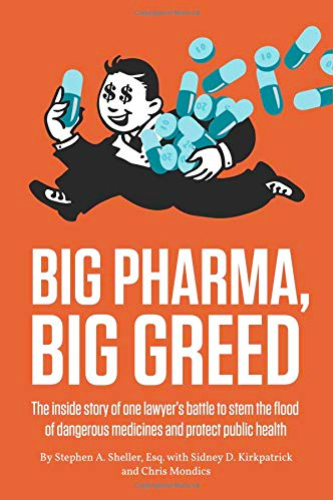 Released this week, Stephen Sheller's new  book "Big Pharma, Big Greed: The inside story of one lawyer's battle to stem the flood of dangerous medicines and protect public health"  (Strong Arm Press) is now available. 
An update and expansion of Sheller's previous book with Sidney Kirkpatrick "Pharmageddon: A Nation Betrayed" writer Christopher Mondics (Philadelphia Inquirer) adds insight, analysis and more to authors Sheller and Kirkpatrick's work about the story of the lawyer's legal fight and personal mission to expose greed and protect the health of millions across the country.
Sheller gives further insider perspective to his major litigation battles and makes specific, sweeping proposals for pharmaceutical and related health care industry reform. To restore regulatory credibility, Sheller proposes that responsibility for testing new medicines be taken away from the pharma industry insiders who have become part of the FDA and give the approval process to those who know the most about drug use and efficacy, hospitals and other public entities that can partner with government regulators, not "the Big Pharma Alumni Club." 
The book is available on Amazon. The popular reader's website Goodreads lists "Big Pharma, Big Greed" as a "want to read/must read" book.
Read "Big Pharma, Big Greed" and review the book on Amazon or Goodreads.
Strong Arm Press is an independent publishing house dedicated to progressive issues and activism. Founded by Ryan Grim (Intercept's bureau chief) and Alex Lawson (Executive Director of Security Works) Strong Arm Press is located in Washington, D.C., where Grim says "locating the press close to the 'power center ' helps its books move the needle here, and be able to drive policy and legislation."