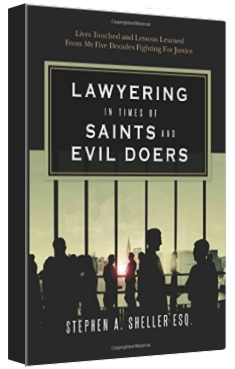 In Lawyering in Times of Saints and Evildoers Stephen A. Sheller, Esq. shares his career experiences that spans over 50 years showing how he became a highly recognized advocate of everyday people, passionately protecting citizens' basic rights under the US Constitution and law.
Readers interested in how the U.S. legal system works—and how it doesn't—will gain much from his first-hand accounts, including his representation of African American Union employees, wrongly jailed Black Panthers, women experiencing gender pay inequity in the 1960s and 70s, and his novel consumer fraud tactics still used in tobacco litigation today.
Part personal memoir, part legal thriller, this eye-opening book will inspire you to stand up for justice, equality, and the Constitution of the United States. This book lays the foundation for his next, Pharmageddon: A Nation Betrayed (See Chapter 1 Excerpt), starting with Bush v. Gore and focusing on the pharmaceutical industry, to be released in May 2016.