Defective hip implants are linked to diminished mobility, abnormal blood tests (increased metal ions), fluid buildup in the body, abnormal X-rays, fractures, swelling and pain, possibly leading to revision surgery
What is the latest news on the DePuy hip implant litigation?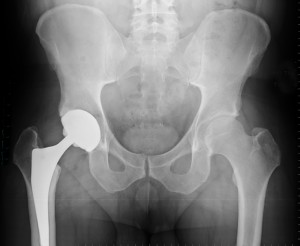 J&J agrees to pay a $2.5 billion settlement to compensate patients affected by the DePuy ASR hip implants. For more information or to learn if you are eligible for compensation for the DePuy or other brand implants, contact the Sheller, P.C. defective medical device team by filling out the inquiry form on this page or calling
800-883-2299.
Sheller attorneys have partnered with the Williams Cuker Berezofsky law firm to represent hundreds of clients. Esther Berezofsky has been chosen for the litigation steering committee by the judge overseeing the lawsuits.
Here are two videos from CBS3 with Sheller attorney Jamie Sheller on defective hip implants
2013 Followup Report after $2.5B settlement
2011 First Report
What's defective about these hip implants and why should I be concerned?
The FDA has received hundreds of complaints from patients with the implants reporting failure of the device and serious symptoms leading to additional surgeries. DePuy Orthopaedics has announced a voluntary recall of its  ASR™ XL Acetabular System and DePuy ASR™ Hip Resurfacing System due to the number of patients requiring a second hip surgery with a new implant (revision surgery).
If you or anyone you know has had a hip replacement and experienced the issues listed below, especially if a second surgery has been necessary, you may have one of the DePuy models our firm is investigating:
Pain
Difficulty walking
Revision surgery (removal and replacement)
Abnormal blood tests or x-rays due to metals from the implant seeping into the bloodstream
Fluid build up
Other complications
Are there lawsuits filed on other brands of hip implant-related devices?
Metal on metal or "titanium" hip implants by other manufacturer are under investigation and litigation, including:
Stryker – Rejuvenate® Modular Hip Implant
Smith & Nephew – R3™ Acetabular System
Biomet – M2a™ Magnum Hip
Zimmer – Dorum® Acetabular Component
DePuy sent me a letter about the recall. Do I still need an attorney?
Yes. Although DePuy Orthopaedics has instituted a program to assist patients with the recalled devices, contact Sheller, P.C. attorneys immediately for a no obligation consultation to see if you qualify for additional compensation. Call 800-883-2299.