Bard Blood Clot Filter FDA application: forged signature?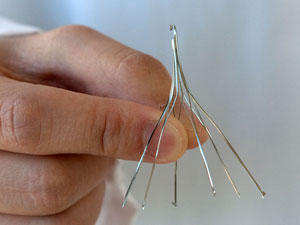 Here's an update on our earlier post about IVC heart filter injuries.
Sheller, P.C. medical device attorneys continue to investigate injuries and deaths related to the IVC Blood Filters and are available to discuss legal options with those affected by the devices. Call 800-883-2299 or fill out the inquiry form.
NBC News conducted an in-depth investigation "Did Forged Signature Clear Way for Dangerous Blood-Clot Filter? and reported the following:
In the first part of an NBC News investigation into the Recovery blood-clot filter, we revealed that the device, which is implanted in thousands of people, was associated with 27 deaths and hundreds of other non-fatal problems after it received FDA clearance. In the second part of the report, a former insider at medical giant C.R. Bard raises questions about how the device got that clearance.
Here is the video for the second report (pre-video ad appears via NBC News link):

According to this September 4, 2015 report, medical device manufacturer C. R. Bard hired a regulatory specialist to help get approval for the company's Recovery blood clot filter. The FDA had not approved an earlier submission.
The device, according to NBC News: "The Recovery, a one-and-a-half-inch metal trap, was designed to sit inside a major vein, the vena cava, and block blood clots from traveling to the heart or lungs, where they could be deadly."
During an interview with NBC News, the specialist said she had concerns about the device.  Her review of an earlier human trial/study of Recovery IVC filter did not provide the safety data, which raised concern
"It was basically, you know, if you continue to pursue these questions, that I was going to be asked not to be on the team," she said. "And I was shocked."
She told the manufacturer she would not sign the application until safety  issues were addressed. Bard submitted the approval application to the FDA including what appeared to be her signature.
The first report video "Did Blood Clot Filter Have a Fatal Flaw?" (pre-video ad appears via NBC News link):