Long term data about the Essure contraceptive device suggest that it may pose risks of serious complications.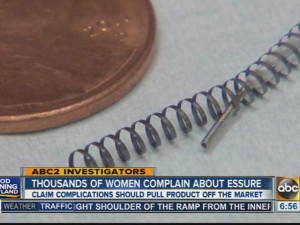 Essure is a birth control device that consists of two metal coils placed inside the fallopian tubes to block conception. Thousands of women across the country have reported serious side effects associated with the device, including severe and/or chronic pain, miscarriages, pierced fallopian tubes and punctured surrounding organs.  In some instances, the device has become embedded into the uterus or moved into the pelvic area. Some women have had to have multiple surgeries to resolve the problems they have experienced.
"The device is a small metal and polyester coil placed into a woman's fallopian tubes. It is non-surgical and that's why it's been so popular" said a report on ABC7 (see video below). "The body reacts to the device by triggering an inflammatory response, this causes scar tissue to form which then prevents anything from entering the fallopian tubes."
The FDA has also received thousands of adverse event reports associated with the device- more than 5,000 since the device's approval.  Recently, the U.S. Food and Drug Administration (FDA) announced that a panel will review the safety of Essure amid reports of health problems not indicated on the product's label and the deaths of at least four women who had been implanted with the device.
The agency will convene a public meeting of the Obstetrics and Gynecology Devices Panel on September 24, 2015 to discuss scientific data regarding Essure's safety and effectiveness.
At this meeting, the FDA invites feedback from presenters, panel members and the public to inform recommendations and next steps about Essure.
Sheller attorneys continue to monitor this issue on behalf of women who have experienced side effects and injuries. Tell us your story: contact us by filling out the inquiry form at the bottom of this page or here,  You can also reach us at 800-883-2299. We're here to help.
Links
Protesters at Moscone Center Demand Essure Be Taken Off the Market, ABC7 SanFrancisco, May 6, 2015 (advertising may precede the news report)
ABC2 Baltimore, November 7, 2013