The FDA investigating reused endoscopes and duodenoscopes used in colonoscopy or endoscopy procedures associated with outbreaks of a deadly "superbug"
NEWS UPDATES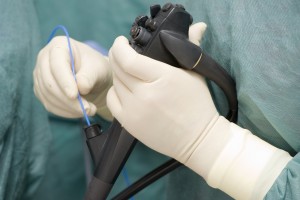 FDA SENDS STERN WARNING LETTERS TO DUOENOSCOPE MANUFACTURERS IN WAKE OF SUPERBUG OUTBREAKS

AUGUST 18, 2015: The Food and Drug Administration ("FDA") revealed that it recently sent warning letters to manufacturers of duoenoscopes, a specialized medical scope that has been associated with outbreaks of a deadly "superbug" virus, saying the companies failed to adequately report problems with the devices and, in some instances, failed to ensure that they could be cleaned properly between uses. The warnings come after the devices  have been linked in recent years to outbreaks of tough-to-fight bacterial infections involving Carbapenem-resistant Enterobacteriaceae, or CRE.
The scope equipment, duodenoscopes and endoscopes, when reused in multiple patients are difficult to clean due to their design, can cause the infections due to bacteria that remains in the scopes and infect subsequent patients with CRE, the "superbug" bacteria. Even the strongest class of antibacterial drugs, carbapenems, are ineffective in treating the serious infections.   Sheller, P.C. has been investigating these developments.
FEBRUARY 19, 2015:  The FDA warned that the contamination can remain even if duodenoscopes are cleaned properly, allowing the bacteria to spread from patient to patient as the devices are reused, see video and links below.
CBS3 News Video (brief television station advertisement may precede or follow story)
"7 infected, 2 dead after 'superbug' outbreak at hospital" reports the Boston Globe
The three manufacturers, all headquartered in Japan, that received the most recent August 2015 FDA warning letters are Olympus Medical Systems Corp., Fujifilm Corp. and the Pentax division of Hoya Corp. The FDA's warning letters stemmed from inspections the agency conducted at manufacturing plants in Japan and the U.S., as well as from bacterial infection incidents.
In its letter to Olympus, the FDA criticized the company for failing to report infections for over three years.  FDA officials said the company became aware of an illness outbreak involving 16 patients in May 2012, but that the FDA wasn't informed about illnesses until this year.
The FDA sent Hoya Corp. a warning letter regarding a number of violations such as not notifying the agency within 30 days of an event and for not notifying the agency of other events that could have resulted in death or serious injury to patients.
The FDA also found a range of violations related to Fujifilm's manufacturing and complaint handling and said the agency "reviewed your firm's responses and concluded that they are not adequate."
All three manufacturers were cited for problems in their production processes. Based on inspections of the companies' facilities, the FDA noted lapses in quality controls and systems for assessing and testing the safety of their duodenoscopes. The agency also raised concerns about the companies' approaches to validating the cleaning and disinfection protocols issued for their devices.
DID YOU OR A LOVED ONE SUFFER FROM A SUPERBUG INFECTION AFTER HAVING DUOENOSCOPE PROCEDURE?
Procedures where the scopes are used:
colonoscopy (bowel/large intestine examination with scope)
endoscopy (scope examination of stomach, duodenum/the small intestine, bile or pancreatic ducts)
and potentially other procedures that might involve endoscope or duodenoscope device
According to USA Today, in its new letters to the three scope manufacturers, "the FDA shows growing concern" about whether they met requirements for assessing the devices' safety before putting them on the market — and whether at least two of those companies properly disclosed the infection problems once they came to light. 'The FDA's actions appear now to be suggesting that this problem is much bigger than they originally thought,' says Lawrence Muscarella, a Pennsylvania health care consultant who advises hospitals and medical device manufacturers on safety issues. "It seems like they're kind of working backwards a bit — as each new shoe drops, we seem to be learning that this should have been getting more attention earlier."
USA Today thus reports that warning letters "are the first step toward formal legal action, setting strict timelines for the companies to address the problems cited." If the companies fail to address the problems, they risk "administrative orders, fines and, ultimately, federal lawsuits."
Moreover, according to the Los Angeles Times, the FDA's findings "offer further evidence that manufacturers knew about problems with these gastrointestinal scopes well before deadly infections became a major public health issue this year." According to the Times, the warning letters "mark the FDA's strongest action against the device makers since an outbreak of antibiotic-resistant bacteria" in February.
States where the infections have recently been reported are Pennsylvania, New Jersey, California, Illinois, Washington state and 42 others, but experts believe the problem is more widespread since doctors may not link the scopes to infections, and there are no reporting requirements to alert the FDA or public health officials.
WHAT CAN YOU DO?
Ask your healthcare professional what precautions they take in cleaning the scopes if you believe they are not using a brand new scope. Some patients have been successful asking for new scopes, seeing it removed from packaging.
Sheller, P.C. is currently accepting duodenoscope injury cases in all 50 states. If you or somebody you know was diagnosed with a "superbug" or Carbapenem-Resistant Enterobacteriaceae ("CRE") infection, you should contact our lawyers immediately for a free case consultation. Please use the form below to contact our Defective Medical Device Litigation Group or call us toll-free at 800-883-2299.
Sheller, P.C. has been recognized as one of the nation's leading plaintiff's law firms and handles cases in all 50 states. Of the previous lawsuits Sheller, P.C. filed was a New Jersey case against Virtua Health Systems Summit Surgical Center for failure to adequately clean endoscopy equipment which has put thousands of patients at risk of contracting HIV, hepatitis and other infections.
LINKS & RESOURCES
Superbug found in Phila., now in L.A.; FDA Acts, by Tom Avril, The Philadelphia Inquirer, February 19 (updated February 20), 2015
7 infected, 2 dead after 'superbug' outbreak at hospital, by Robert Jablon, The Boston Globe, February 19, 2015
Design of Endoscopic Retrograde Cholangiopancreatography (ERCP) Duodenoscopes May Impede Effective Cleaning: FDA Safety Communication, FDA Safety Alert, February 19, 2015
Deadly bacteria on medical scopes trigger infections, by Peter Eisler, USA Today, January 27, 2015
IF YOU OR A LOVED ONE HAS DEVELOPED AN ANTIBIOTIC-RESISTANT INFECTION THAT APPEARS ANYWHERE INTERNALLY OR EXTERNALLY DUE TO THE RISK OF RE-USED ENDOSCOPES OR DUODENOSCOPES CAUSING SERIOUS AND POTENTIALLY FATAL CONSEQUENCES, CONTACT OUR OFFICE TO PROTECT YOUR HEALTH AND LEGAL RIGHTS. CALL 800-883-2299 OR FILL OUT A CONFIDENTIAL FORM BELOW.